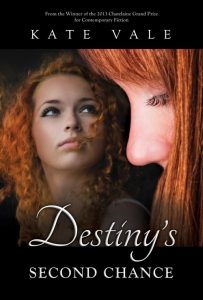 Destiny's Second Chance by Kate Vale is Book of the Day on bookoftheday.org! Click here to purchase your copy.
First Place Category Winner for the Chatelaine Awards 2014 for Women's Fiction and Romance Novels.
At sixteen years old, Isabella Campbell is forced to give up her newborn daughter, Destiny. For twenty-one years Bella ponders the fate of her daughter as the annual letters from the adoptive parents cease. She decides to take action, and Destiny gets the surprise of her life when her birth mother contacts her. Despite her adoptive mother's reservations about this new connection, Destiny is curious to meet the woman who brought her into the world.
While Bella strives to build a relationship with her daughter, she also works to save her favorite local bookstore. Gavin Cambridge, the owner's nephew, doesn't think the bookstore is worth saving and is more interested in pursuing Bella.
Gavin is all business. Bella is all heart. But she needs to balance her heart and her mind as she navigates romance, works to save a business, and tries to give her long-lost daughter Destiny the greatest gift in the world: a second chance.