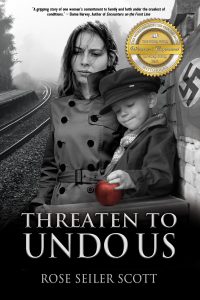 Our very own Rose Seiler Scott has been shortlisted for The Word Guild's 2016 Word Awards!
Congratulations Rose! Threaten to Undo Us is a fantastic historical fiction novel and you can buy your copy here.
As Hitler's Third Reich crumbles and Stalin's Army advances, German civilians in the Eastern territories are forced to flee for their lives.
Leaving her dying mother, Liesel and her four young children hope they can make it from their home in Poland across the Oder River to safety. But all that awaits them is terror and uncertainty in a brutal new regime that threatens to tear Liesel's family apart.
With her husband a prisoner of war in Russia and her children enslaved, Liesel's desire for hearth and home is thwarted by opposing political forces, leaving her to wonder if they will ever be a family again.