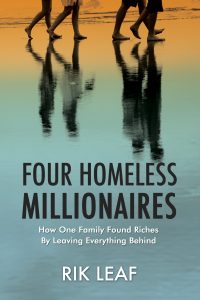 Four Homeless Millionaires is Book of the Day on bookoftheday.org!
In the throes of a global recession, Rik and Zara Leaf sold their house and spent a year traveling around the world with their son Zion, and daughter Riel, investing their life savings in a laugh out loud adventure of a lifetime.
The family filmed horror movies in Canada, ate mafia-made pizza in Germany, got caught sneaking onto a Hollywood set in Hawaii, survived a feral dog attack in Malaysia and dorsal fins emerging from the surf as they swam off the Australian coast.
The thought of abandoning conventional wisdom and getting away with it was too exciting to pass up. Of course, the decision to really 'go for it' involved lots of anxious 'what ifs' and 'are we out of our frigging minds?'
Throughout the year they produced a videos series called, "Where in the World are Zion & Riel?" QR codes linked to these videos are included in the book, creating an amazing interactive reading experience.
Get your copy here!