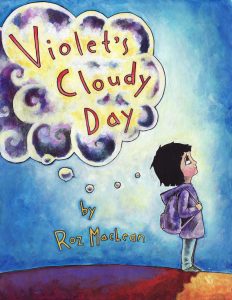 This is it! Today is the first day back to school here in BC, and in other places school has already begun. The smell of new stationery, battling other parents for the last duo-tang at Staples, finding out what the new trendy backpack is for the year. Some kids love it, some kids hate it, and others are aware it is merely a necessity of life. But for the kids who hate school—why?
In Violet's Cloudy Day, Vancouver-based author and illustrator Roz MacLean has figured out what might be truly bothering some children as they reluctantly grab their books and head out the door to the school bus: anxiety. They're anxious about going back to school, whether they're starting at a new school or just entering a new year at the same school they went to before summer vacation started.
Meet Violet. She's starting at a new school this year, and her worries just won't stay inside her head—literally. They float above her in little clouds, haunting Violet as she tries to combat her anxieties.
Violet figures there must be a way out of this mess. She thought up these worries in the first place, right? So that must mean there's a way to take them down. See Violet rise up to the challenge in eliminating her back-to-school anxieties!
Help empower your kids with their own worries and buy a copy of Violet's Cloudy Day now for only $11.95!